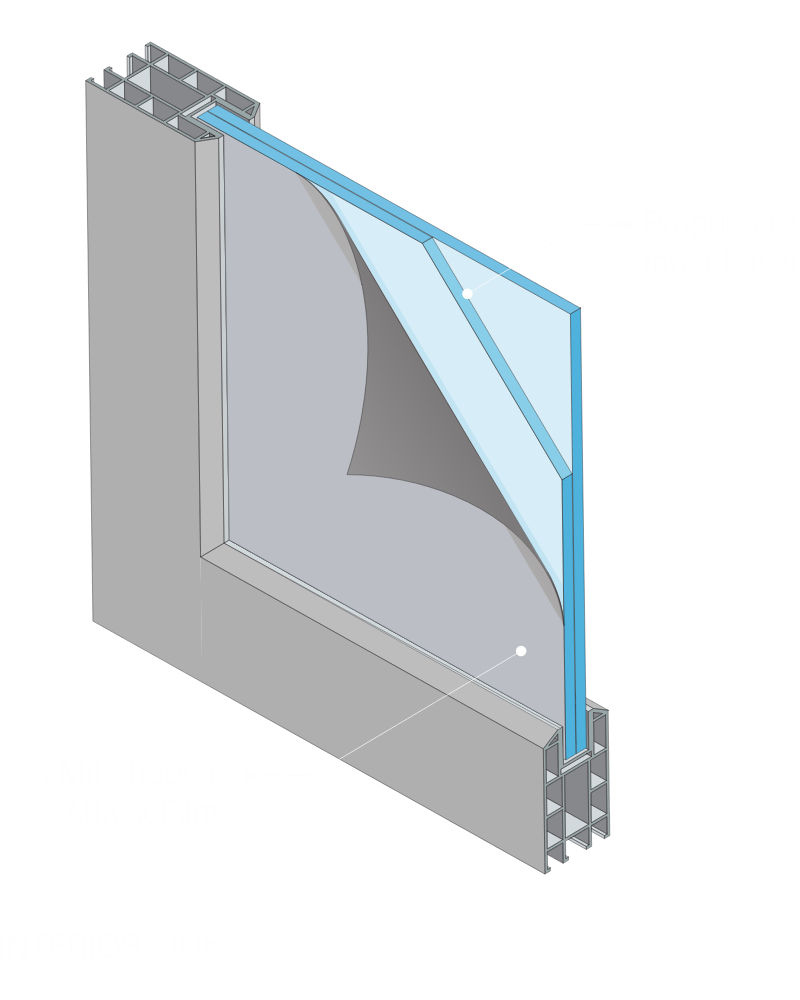 The glass is best for new construction and capital projects, so the installation process is easy. The glass is installed in the same manner as regular glass during the construction process. The glass is best used where fire-rated glass is not required. The glass can also be modified to be IGU's and to fit all architectural requirements. 
Thickness: 5/16"
Glass Weight: 3.25 lbs. sq/ft
Construction: Proprietary
Maximum Size: 72" X 96"
Warranty: 10 Year Limited
AOTSG816L represents a Class 6 Shooter Attack Test conducted by FILTI Testing and Development. In this test, the laminated glass undergoes a series of evaluations. Initially, it is subjected to 10 rounds of AR15 .223 caliber ammunition, followed by being struck by a 100 lb. ram. The bullets penetrate the glass during the firearm test, while the ram impacts the glass a total of 12 times. If the 6-inch ram head penetrates the glass before the completion of the test level, it is considered a failure. This unique testing method involves shooting the glass 10 times with a rifle, then subsequently applying a significant amount of force to assess the durability of the product post-shooting. The primary objective of this test is to ensure the protection of individuals positioned behind the glass and to safeguard decision-makers from potential liability concerns.
AOTSG816L Certification

FILTI Shooter Attack Certified

Fire-Rated

Hose Stream Tested 

Impact-Rated

ANSI Z97.1 | 16 CFR CPSC 1201

UL972 BURGLARY GLAZING MATERIAL | EN356 P4A

BOMB BLAST & EXPLOSIVE PROTECTANT

SAFETY GLAZING & GLASS BREAKAGE
ANSI Z97.1 | 16 CFR CPSC 1201

FORCED ENTRY & BURGLARY RESISTANT
UL972 BURGLARY GLAZING MATERIAL | EN356 P4A

Armoured One's security glass is the ultimate solution for buildings looking to increase their protection against shooters and attacks. Our security glass is stronger with greater durability compared to our film option, making it an ideal choice for capital projects or remodels. One of the key advantages of our security glass is that it can be easily installed to fit the customer's needs and architectural requirements [including IGU's], which saves time and reduces the cost of installation. Our glass is designed to slow down or deter attackers who are attempting to gain entry through force or with firearms. All of our products (film and glass) are FILTI Shooter Attack Certified, ensuring the product meets the necessary requirements for forced-entry protection after sustaining an active shooter assault. We are the only glass company to have this level of certification on our products. (Learn More About FILTI Shooter Attack Certification Here)
Best Option For Capital Projects or Remodels
At Armoured One LLC, we take pride in our high-quality glass products that are factory-made to your specifications. By choosing our Insulated Glass Units (IGU's) for remodels, new construction, or capital projects, you save money by only paying for one installation fee. If you were to choose a standard glass option and have our film applied, you would be paying for two or more installation fees (Installing Standard Glass & Installing The Film). In addition to cost savings, our IGUs are customizable to fit the customer's needs, regulations, and architectural requirements. This makes them the best option for all new construction, remodels, and capital projects. When you choose our IGU's, you can rest assured that you're getting a superior, stronger product that provides unmatched protection and peace of mind. Our customized solutions ensure that you get the most out of your investment while meeting all safety and aesthetic requirements. Don't settle for less than the best. Contact Armoured One LLC today to learn more about how our high-quality IGUs can benefit your building and save you money in the long run.
*Notice* Our products are not bullet resistant, they are designed to slow down or stop an attacker.