Solutions That Save Lives
Comprehensive Security Vulnerability Assessments
Preparing and Protecting Your Location From Attacks
At Armoured One LLC, we are passionate and focused in our mission to prevent, deter, defend, and protect against active shooter or other deadly aggressive behavior incidents. We understand every location has unique strengths and weaknesses, and there is no "one-size-fits-all" solution. That is why we have developed the most comprehensive Security Vulnerability Assessment nationwide. Whether you are constructing, renovating, or protecting existing structures, Armoured One's subject matter experts will help you enhance your security posture and, most importantly, save lives. From the property line to the interior (and beyond), our team of subject matter experts will evaluate existing conditions, detect vulnerabilities, and provide recommendations based on best practices and our extensive knowledge and analysis of past incidents. 
Armoured One LLC utilizes a diverse and experienced group of experts including SWAT team operators, Law Enforcement, Homeland Security, Secret Service, former Special Forces, Fire Service professionals, engineers, and architects. Each of our team members is dedicated to saving lives and sparing communities from the trauma of such horrific events.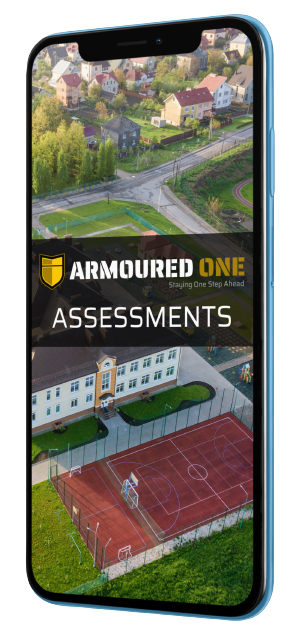 Frequently Asked Questions
Here are some common questions you may have regarding our assessments. If your questions are not answered here, please reach out to our team through our contact page here
.
1.

What Could An Assessment Look Like?
 Armored One experts conduct assessments based on multiple factors and scenarios. Our assessment teams are security experts. Decisions and recommendations are based on case studies from past active shooter scenarios. Assessments may include the following for your school or business:
Interviews conducted with building Administration.

Physical security conditions such as building grounds, perimeter, and interior. 

Building ingress and egress of students, staff, visitors, and vendors.

Places of assembly and special needs.

Security-related Technologies.

Security-related policies and procedures.

School resource officers or school security.

Active shooter training (

One Training

).
2.

Where & What Do We Examine and Assess?
 Armoured One LLC's security assessments are specifically focused on areas in need of improvement based on actual case studies of past Active Shooters in the United States. Our recommendations help create cover or concealment from an attacker and buy time for the innocent to react and increase their chances of survival. Not only do we examine the physical area from the property line to the interior of your building, we also make recommendations in regards to preventative measures, security personnel, and district-wide policy.
3.

What Does Armoured One LLC's Assessments Include?
Our Assessments service includes:
Provision of field work, a questionnaire, and an individual report for each building.

Identification of vulnerabilities in security.

Reference of applicable past active shooter attacks.

Recommendations based on real life experiences with shooters and the study of the history of active shooters in America.

Assistance in developing an effective Emergency Operations or Action Plan.
4.

What Is Active Shooter Training?
It's commonly assumed an active shooter scenario won't happen to you, but the harsh reality is that it can. With Active Shooter training, we give staff the realization this could happen and how to prepare for it. We train staff on how to identify, respond, react, and handle these intense scenarios, ultimately, increasing the probability of survival for all targets.
What Is A Security Assessment?
A security assessment is a crucial step towards creating a safer environment. Our team understands that every active shooter attack is unique, which is why we have developed specialized products, assessments, and training tailored to meet the specific needs of various organizations, including K-12 schools, higher education, businesses, government, health care, and religious organizations.
The security assessment involves a careful examination of past active shooter incidents to determine areas that need improvement. Our team of experts assess existing building conditions and operational practices that directly or indirectly impact the safety and well-being of administrators, students, employees, and visitors. Based on the information, our team of experts provides recommendations to upgrade these areas and enhance overall safety.
We take pride in the fact our assessments have already made a difference and saved lives in schools. With Armoured One LLC, you can rest assured we take every measure to provide you with the best possible security solutions.