"We need to be visionary; we have to be bold."- Angella Elwell Hunt (author)
All visionaries have to be bold; it's a prerequisite to innovation. They must be willing to take risks with a unique blend of stubbornness and humility; willing to learn in the journey of discovery without ever giving up and with deep conviction.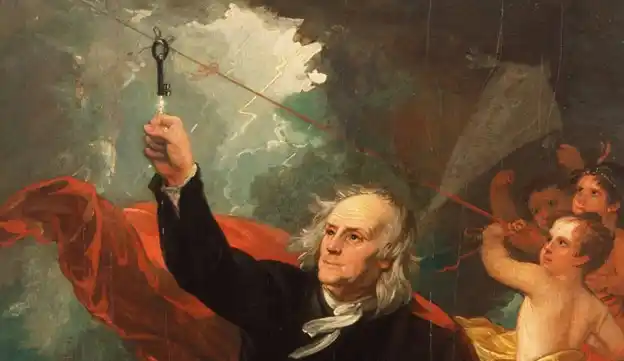 Benjamin Franklin Drawing Electricity from the Sky. Artist: Benjamin West. Credit: Gift of Mr. and Mrs. Wharton Sinkler, 1958, Philadelphia Museum of Art.
We probably all remember learning at a young age about Benjamin Franklin's discovery of electricity. After being warned of the dangers of being outside during a thunderstorm, especially while in contact with metal, we were told that "if it wasn't for Benjamin Franklin", with his arm held high in the sky attached to a key and a kite, we would not have the revolutionary innovation of electricity. We only remember this because it was radical; it was risky. But his discovery did not come without struggle and criticism. In fact, during one of his infamous experiments, Franklin was seriously electrocuted. But that didn't stop him. His tenacious spirit made him persevere to ultimately make one of the greatest discoveries of all time. Boldness is exactly that- taking what everyone else deems impossible or illogical, and approaching it head-on, without fear and with servility.
And we recognize that boldness is defined by action, not mere words. One of the defining aspects of a "hero", as we label them, is one who acts boldly. When the Metropolitan Nashville Police Department got the active shooter call at 10:13 a.m. on March 27, 2023, they did not hesitate to act. At 10:27 a.m.,the suspect was shot and killed. In body cam footage of the authorities on the scene, it is evident that they acted boldly, taking the suspect down within only 14 minutes of the first 911 call. Now officer Rex Engelbert and officer Michael Collazo, have aptly been named heroes for their brave and bold efforts.
By contrast, cowardice manifests itself when fear and hesitation lead to inaction. This was most evident in the lapse of time in the 2022 Uvalde school shooting in Texas. An excruciating and devastating 90 minutes passed before the authorities intercepted the shooter. Although there were dozens of armed law enforcement on the scene, they were paralyzed by uncertainty and indecisiveness. Their response, or lack thereof, has been scrutinized relentlessly. And while there are significant differences between the two attacks, the most notable difference is the response of law enforcement officers. The boldness of the Nashville officers will forever set them apart.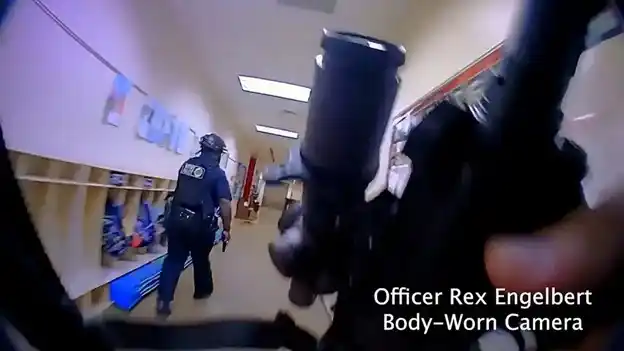 Police body camera video shows officers responding to the deadly shooting at Covenant School in Nashville. Credit: Metropolitan Nashville Police Department, via Reuters.
At Armoured One, we also claim the value of boldness, knowing that it is only through taking risks and stepping into uncharted territory that we can be a catalyst for change in active shooter scenarios. Previously, there were no set standards for active shooter scenarios. In a field where the issue was ever-increasing, no one was willing to boldly step into the gap until the Armoured One team. With our innovative glass, graded glass film, ultra-secure doors, and comprehensive security assessment offerings, we aim to act before the possibility of attack by preparing the grounds and school/business personnel to respond in confidence if an attack were ever to occur. Each Armoured One employee recognizes that they play a vital role in our pursuit of boldly forging original products and approaches to counter active shooter threats. We are set apart from our competitors, as we are honest about our products, and don't aim to win over clients with empty promises of "bullet-proof" glass, which doesn't exist. We have worked and reworked our products based on realistic attack methods to make them as bullet-resistant as possible, and have continuously studied active shooter events, placing our team directly on the scenes to gather as much information as possible to inform our understanding and approach to active shooter events in our training sessions.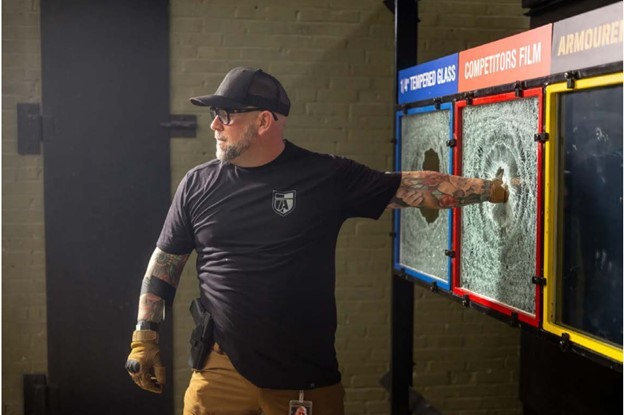 Tom Czyz, Armoured One founder, during product demonstration.
We are boldly willing to prove our products to the public by holding periodic demonstrations that have been held within the Syracuse, N.Y. branch of Armoured One to give school administrators and business owners a first-hand experience and understanding of our products against our competitors'. In February of 2023, The New York Times published an article featuring Armoured One's founder, Tom Czyz, proving the effectiveness of our products against actual gunfire- and not just one shot, but rather 30 rounds at close range. Not in mere spoken word or written promises, but in bold, active proof, is how we aim to reassure our customers of the products and services we have innovatively designed. Moreover, Armoured One has taken a bold approach to contracting with schools and businesses. We have designed our services and products to work in conjunction with one another, so when schools or businesses want to piecemeal our services or our products, but refuse to adopt our data-supported security recommendations, we have to seriously reconsider partnering with them. This may be a bold stance, one that may even lose us clients, yet it is our conviction that we partner with groups who share the same devotion to saving lives as we do, so we are willing to take that risk.
Corkery, Michael and Z. Canepari. "In a Violent America." The New York Times.
https://www.nytimes.com/2023/02/17/business/active-shooter-industry-us.html (Accessed on 2023, August 15)
Craig, Tim, H. Allam, A. Gowen and M. "Uvalde: 90 minutes of terror, a failed police response and shattered trust." (2022 May 28). The Washington Post. https://www.washingtonpost.com/nation/2022/05/28/uvalde-classroom-police-911-failure/ (Accessed on 2023, August 15)
"Failing for Success: Benjamin Franklin."(2016,January 14). Intellectual Ventures. https://www.intellectualventures.com/buzz/insights/failing-for-success-benjamin-franklin. (Accessed on 2023, August 15)
Hernandez, Joe. "What we know about the deadly shooting at a Nashville elementary school." (2023, March 28). NPR. https://www.npr.org/2023/03/28/1166482479/nashville-school-shooting-covenant-what-we-know. (Accessed on 2023, August 15)